Tantra to Supercharge Sexual Energy- practices for singles & couples
February 10, 2021
@
9:00 pm
–
11:00 pm
UTC+0
Tantra to Supercharge S*xual Energy ~ practices singles & couples can use everyday
About this Event
Wintertime and lockdown got your sexual energy lower than you'd like? Erwan and Alicia have developed a new and unique approach to Tantra and Sexual Energy.
Supercharging sexual energy provides a dramatic boost in energy and enthusiasm for life. The "sex" center is in many ways the "vital" center. When it is compromised, not only does interest in sex decrease but enthusiasm for life decreases.
Tantra basically means two things: an advanced practice and a practice focused on direct experience often using the body and sexual energy. It is much more active than, say, meditation.
Join Erwan & Alicia February 10th for Tantra to Supercharge S*xual Energy~ practices singles & couples can use everyday. They will show you key Taoist practices for recharging your batteries… sexually and otherwise. Some practices can be done with a partner and some alone. Increasing sexual energy for males is different than for females; both will be covered.
You will learn skills such as:
• How not to ejaculate and still experience release (for males)
• Microcosmic orbit (for both sexes)
• Sexual energy orbit between partners (couples)
• Orgasmic upward draw (for both sexes)
• Stimulation of key pleasure points (for women)
You'll also learn:
• How to increase sexual appetite and interest in sex
• The different cycles sexual energy goes through in a woman's body in an individual sex act, during the day, monthly and seasonally
• How to feel more vital and enthusiastic about anyone or anything
• How to be more attracted to yourself and have others more attracted to you
• Practical exercises you can do daily alone or with a partner
• How to turn a relationship on or back on
• What gets in people's way from developing themselves sexually, like past conditioning, fear, etc. and what are practical ways of handling those.
Erwan and Alicia are experts in the field of bringing sexuality and spirituality together to create what they call An Eternal Date, which is a romantic relationship that has the depth AND the sexy. They provide a time tested, practical, safe yet sophisticated, exciting and tantalizing approach to tantra and sexual energy in relationships. Alicia & Erwan have been supporting both singles and couples in creating this kind of relationship since 1995, with a specialty in Extended Orgasm- their signature sexual technique. They will be addressing all these topics and more on February 10th at Tantra to Supercharge S*xual Energy.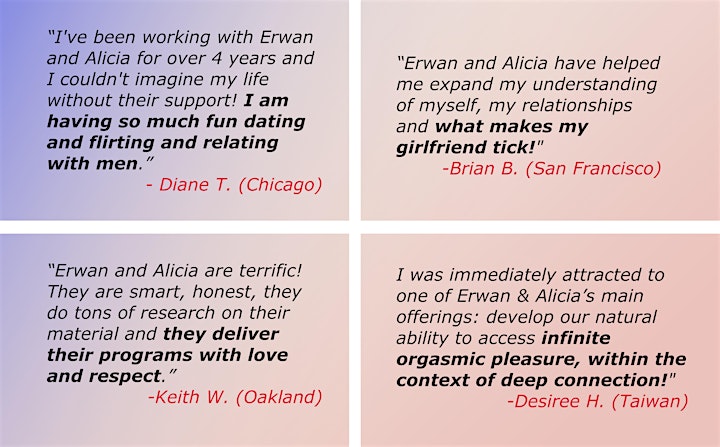 Your Facilitators:
Erwan and Alicia are long time teachers based in the Bay Area couple that have developed the Davon Method and taught it to thousands of students and helped them reach their sexual and relationship goals. As a married couple, they have been teaching singles to get into relationship and couples to thrive in relationship, with an emphasis on developing an advanced level of sophistication with attraction and seduction for the last 25 years. They have become the go-to place in the Bay Area for all things romantic and sexual.
Erwan and Alicia have a unique approach to relationship coaching that combines their educational backgrounds in psychology and sexuality and aspects of Zen Buddhism to provide a holistic method to effectively improve connection with the self and others.
Erwan studied psychology after a difficult childhood and an early introduction to therapeutic work. He went on to live and study in a Zen Monastery, direct a yoga ashram, and began teaching personal development at one of the world's largest personal grown organizations. Erwan's passion for helping and teaching people led him to found Erwan Davon Teachings in 1995, specifically to help people improve their relationships.
Alicia Davon holds a Master's degree in Integral Psychology with a focus on women's romantic and sensual expression. She trained as a therapist before meeting Erwan and led numerous women's groups devoted to female pleasure and life fulfillment from career to relationship. She met Erwan 15 years ago and started teaching with him soon after.
Together, Erwan and Alicia developed The Pleasure Course and several other programs, which have helped thousands achieve their ideal love lives. They provide a safe place to explore psychological inquiry, pleasure, and sexuality.
They have spent years perfecting their curriculum and techniques and are excited to share their expertise with newcomers so they can help improve chemistry, connection, communication, and passion in others' lives!
For more events, visit our website: https://www.erwandavon.com/eventshttps://www.youtube.com/embed/u1UKQ-X_Qs4