The Events Calendar by Modern Tribe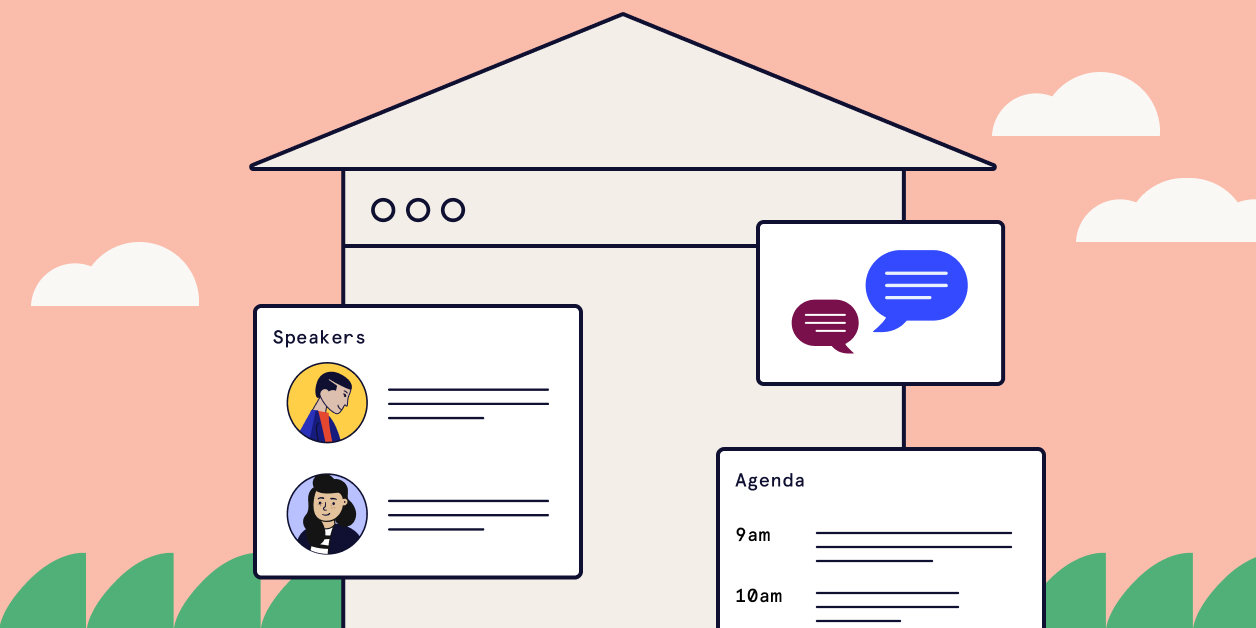 How to Create the Perfect Virtual Event Venue
Hosting a virtual event means you don't have to worry about the venue, right?
Not exactly.
Even though you don't need to think about coat check or catering, you still need to create a venue for your virtual event that goes beyond a Zoom link. One way to create the perfect event venue online is by setting up an event page with key details and resources for your attendees.
How to use an event page as a virtual venue
Let's assume you've already created an event listing on your website calendar that includes the basic info for your event: Date, time, and a description. For an in-person event, you might stop here—when attendees arrive to your event, you'll hand out further information.
But for a virtual event, you need to go one step further and create a companion webpage that gives attendees a place to go before, during, and after your event.
Setting up a companion page on WordPress
Create a new page or post that you'll use solely for your event. When attendees register, you can include a link to this event page in the confirmation email that includes the meeting link and other information. (And don't forget to link to your event page in reminder emails leading up to and on the day of the event.)
To get the page started, you'll likely repeat some of the key information from your event listing. Then you'll start getting into more detail and adding pieces to keep your attendees engaged.
Lead with an eye-catching graphic
Good design isn't just nice to look at. It also shows attendees that you take your virtual event seriously. Create a graphic that you can use as the header for your event page. You can also repurpose this graphic to promote your event across email and social media.
If you don't have access to a designer or design skills yourself, you can use Canva or even stock photography to add visual touches to your event page.
Include a detailed agenda
When it comes to events, nobody loves surprises. Let your guests know what to expect at your virtual event by sharing a detailed agenda on your event page.
Attendees are more likely to show up when they know what to expect. This is especially important for online events at a time when Zoom fatigue is rampant and virtual events can feel easy to blow off.
Within your agenda, include:
A detailed schedule. What time will you get started and when will the event end? Be respectful of attendees' time.
Speaker biographies. Introduce speakers, panelists, and other featured guests. Share links to their social profiles or websites along with their bios.
Attendee expectations. Let guests know how they will be expected to participate. Will they be allowed to ask questions, or will they be hanging back with cameras and mics off? Advise attendees if they'll split into breakout groups or be expected to speak up during the event.
Related materials. Your event page is where you can drop a link to slides, presentations, or other materials. It's up to you whether you share materials before your event so attendees can take a look in advance, or after the event, so attendees can revisit the information.
Incorporate chat and conversation tools
Even though you can't exactly recreate the feeling of in-person networking when you're online, there are still lots of ways to encourage interaction between your attendees at virtual events. Enhance your virtual venue by using your event page to embed a live chat, or link to your group's portal on Slack, Discord, Facebook, or wherever else you connect.
The live chat feature on your meeting software is great for during the event, but you also want to give guests a place to keep the conversation going before and after the event. Consider using a community tool like BuddyBoss or a P2P chat plugin like Rumble Chat to add chat and conversation as part of your virtual venue.
Looking for more virtual event advice?
Check out our Virtual Events add-on for The Events Calendar, and visit our virtual event resources page for tips, tricks, and tools to help you make the most of your online events.
Edited by Kate Oliver